Spring Break 2018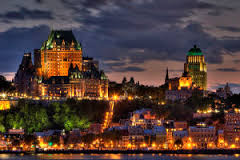 October 2017
Welcome to the Spring Break Trip 2018!
Next student meeting is Thursday, October 12 at lunchtime in Room 218. These meetings are mandatory for students as they include critical information. 
If you have not provided Ms. Graham with a copy of the ID you will be using on the trip, please do so immediately (Driver's License or Passport). Also, please ensure that you have sent these details to EF Tours. 
This school year, grade 11 and 12 students are welcome to join chaperones Mr.Chris Taylor and Ms. Fiona Graham on a fantastic trip exploring Montreal, Quebec City, Toronto, Ottawa, the Beaupre Coast and Niagara Falls. We will be flying out on Friday, March 23 and returning on Sunday, April 1. During this time we will be visiting Montmorency Falls, Traditional Huron-Wendat Village, Workshop at the Plains of Abraham, Sugar Shack, Chateau Frontenac, Notre-Dame Basilica, Olympic Tower, Canadian Museum of History, Parliament Buildings including Peace Tower, Niagara Falls, the CN Tower and more! For full itinerary please click here
At this point, you are welcome to register and make your deposit of $199 to guarantee your students' place on the tour. If you are interested, please go the following link for the Salisbury trip with EF Tours http://www.eftours.ca/tour-website/2018326CY. When a student is registered, an email is sent to the school confirming registration. Once the 24th person has been registered, the tour will be officially confirmed. (The ratio of students to chaperones is 8:1).
The cost of the tour is dependent upon the number of students who are travelling, but at the moment sits at $2989 per student based on 24 students. This includes flights, taxes, accommodation, coach, tour director, breakfast, dinners, entrance fees (as per itinerary), insurance, gratuities, etc. Not included, is air line baggage fees, lunches and spending money. The price of the trip is guaranteed until June 30, 2017. For the complete tour price as of June 2018 click here
For information on EF Tour insurance policy and cancellation insurance, please go to http://www.eftours.ca/help-centre/safety/travel-coverage.
If you are interested, and have any questions or concerns, please email Fiona.graham@eips.ca or chris.taylor@eips.ca.