Spring Break 2018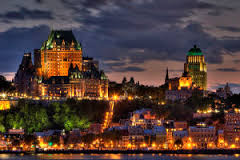 Welcome to the Spring Break Trip 2018!
This school year, grade 11 and 12 students are welcome to join chaperones Mr.Chris Taylor and Ms. Fiona Graham on a fantastic trip exploring Montreal, Quebec City, Toronto, Ottawa, the Beaupre Coast and Niagara Falls. We will be flying out on Friday, March 23 and returning on Sunday, April 1. During this time we will be visiting Montmorency Falls, Traditional Huron-Wendat Village, Workshop at the Plains of Abraham, Sugar Shack, Chateau Frontenac, Notre-Dame Basilica, Olympic Tower, Canadian Museum of History, Parliament Buildings including Peace Tower, Niagara Falls, the CN Tower and more! For full itinerary please click here
Next student meeting will be at lunchtime in Room 218 - date to be determined. These upcoming meetings are mandatory for students as they include critical information. Flight details are now available and you should have received the information in an email sent out January 9. IF you did not receive it, please contact Ms. Graham. Rooming lists and dietary needs are now being compiled. 
Please be aware that there will be a parent/guardian/student potluck supper which will be held prior to departure, at which parents will watch a power point of the upcoming trip, meet with chaperones, and address any questions or concerns regarding the trip (cell phones, monies, free time, school policies, etc.). 
For information on EF Tour insurance policy and cancellation insurance, please go to http://www.eftours.ca/help-centre/safety/travel-coverage.
If you have any questions or concerns, please email Fiona.graham@eips.ca or chris.taylor@eips.ca